In Italy's towns and cities, but not only, many Italians tend to live in apartment blocks. Some are relatively small, like the block I live in, whereas others can be huge complexes which can be hugely complex. The first time round, getting into and out of these apartment blocks can be a little fiddly, to say the least.
As happened to me only the other day, I managed to get myself and my son locked in to one apartment block after a visit to the dentist. This how to guide should avoid such minor mishaps and help you in, and out.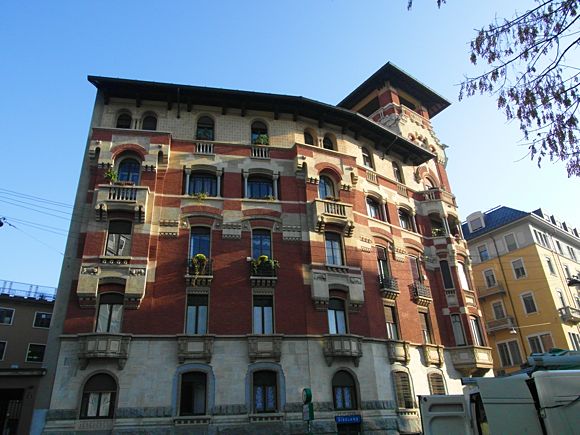 Getting In
Most apartment blocks in Italy have an entry phone, or 'citofono' as Italians call them and this is where the fun, or frustration, can start.
Generally, there are lists of names on these entry phones. But for the apartment you are visiting, there may not be only one name, there may well be two. Married couples in Italy retain their surnames, so you may see, for example "Moretti – Nero" on a little label. Alternatively, you may only see 'Moretti' or 'Nero'. Then again, it could be M/N, or another variation. Just to make life a little more interesting, there may be several people with the same surnames. It's not uncommon to find mother, grandmother, brother and other relatives, all with the same surnames, residing in the same apartment building in Italy.
When you made an appointment to visit someone, you may have got the wrong name! What you need to do when you fix that dinner date or whatever is to ask which name is on the entry phone. In fact, get both names! That is, of course, if there is a name or two.
Numbers Only
Some entry phone systems only have numbers. Others may have a mix of numbers and names, but you may need to dial a number to ring the entry phone buzzer in your target apartment. Having a phone number to ring in such cases can come in handy.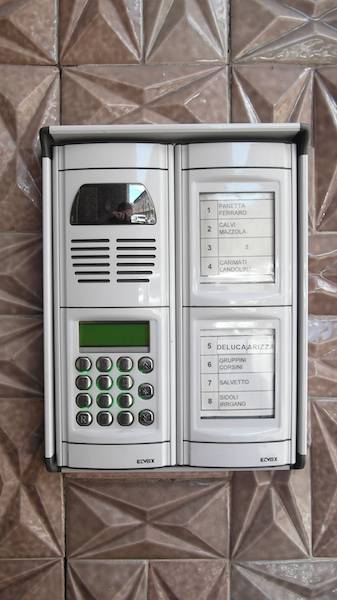 Assuming you've either got the name, or names, or number you need, and have actually managed to get past what may well be an enormous door, which may incorporate a mini-door (watch you head!), you'll be in the apartment block. The going will be easy from now on, you think. Except it may not be!
Labyrinth Time!
Upon entering the apartment building, you may be presented with various options: you could turn right or left (sometimes both directions) and go up some steps to find a foyer with stairs and a lift – you did ask for the floor, didn't you?
Then again, you might be able to go straight on, though another doorway – which may resemble or even actually be a gate. You may then find yourself in a, rather nice, courtyard, off which several doors may lead. By these doors there may be letters or numbers. Which one do you need to choose? A good question.
You may either have to pop out of the whole apartment block and ring the entry phone once more and ask, or pull out your smart phone with its nearly flat battery and give your host a call.
Nearly there! Except there may be yet another entry phone beside one of the inner doors where you'll have to hunt for the name, or names, or dial in a number. From this point on, you should be OK. Almost.
The Anonymous Brown Doors
Once you get to the target floor of the target apartment, either via the stairs or a lift, you may well be confronted with a number of, more often than not, anonymous solid-looking windowless brown doors. With a little luck, the owner of the target apartment will have opened the door so that's where you head.
Knock on the door, say, "permesso", as one does in Italy, and enter the apartment. While it has not happened to me, only one door on the target apartment floor should be open, but this may not always be the case, so could end up meeting new people! Eventually, you will end up where you want to be.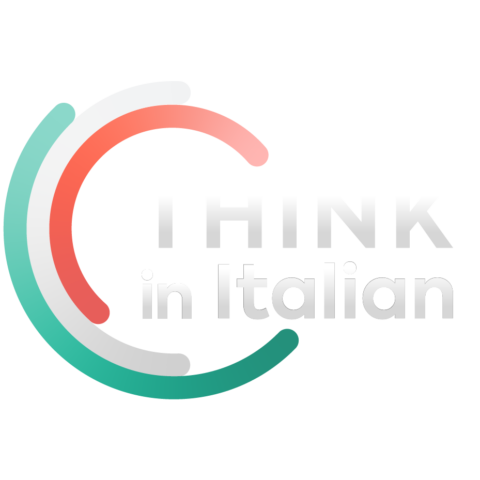 Stop reading, start speaking
Stop translating in your head and start speaking Italian for real with the only audio course that prompt you to speak.
Once within the apartment, you socialise, eat, party or do whatever it was you came to do, and the time comes to leave. This is where the fun can start once more! If you are wise, choose to leave when someone else does. Follow them and you should find your way out with relative ease – unless you meet another first timer, that is.
Getting Out
You take the lift or, if you are feeling energetic, walk down ten flights of stairs and, if you don't end up in a basement parking area (yes, this happened to me once), you end up in front of the door which you used to enter. You push the door. It doesn't open. Odd you think. What do you do next? Well, you could try breaking down the door, but this is a little extreme. On the other hand. Look at the wall on either side of the, first, exit door.
If you are lucky, you'll spot a little, generally white, rocker type switch. Press it. You should hear the door go clunk, or a light may come on, and if you push the door now; though you might have to turn a knob; the door should open. Well done! You are nearly out. But what happens if you cannot find that magical locker rocker switch? A very good question.
In the abence of a rocker switch, go back into the building a little and look at the walls to your right and left, look around corners too. You may espy that essential little white rocker switch. Then you'll be out. Alternatively, if you can't for the life of you find the rocker switch – which can happen – give your host a call and explain your predicament. He or she should appear and press the requisite button so you'll be able to leave the building – this may also be possible directly from the apartment as it is the same as letting people in.
Once you are in the courtyard, again, and can remember which way the exit is – this is not always as easy as it sounds – some of Italy's newer apartment mazes may have several exit doors. Indeed, you many find yourself on an unfamiliar street and then you'll have to guess which way to go to locate your car, if you came by car, that is.
Anyway, assuming you can find a door, and hopefully, though not necessarily, there will be only one. You can play the 'find the little rocker switch' game once more. There may be a little rocker switch to the left or right of the mini-door in the huge door. Then again there may not. Instead, there may be a little red button on the mini-door. Press this and you should be greeted by a clunk as the electric lock unlocks itself. You will then be able to leave the apartment block, probably before dawn breaks.
The Hidden Rocker
But what happens if neither the little white rocker switch nor the little red switch are in view? Problem.
In this case, head back into the apartment block yet again. Generally, there will be a kind of caretakers kiosk and around a corner, generally well out of view, a little white rocker switch may well lurk. Press it and head for the door again. With a little luck it should now open, though this is not always the case and this is exactly what happened to me the other day during the dentist incident. I pressed a little white rocker switch and this let me out of the front door. It should also have opened the gate into the apartment building, but for some inexplicable reason, it did not. While I was working out whether I should vault the not so high fence, luckily, a little man came along and he let myself and my son out. I think the little man thought I was nuts. Well, I thought I was!
Got that?
There, I hope you have now got all that.
Not all of Italy's apartment blocks are as complex as Fort Knox to get in and out of, but some can cause problems – I know, I have had more than my fair share of getting in and out escapades. Despite having lived in Italy for years, I continue to have problems getting into and out of apartment blocks the first time I visit them.
With this little how to get in and out guide, you should have far fewer problems than I. Just in case though, ensure the battery on your wonderful smart phone is fully charged, assuming you do have a mobile phone, that is.
If all else fails, wait. With a little luck, eventually, someone will turn up and let you out.
Happy entering and exiting!
By the way, you may find this other how to guide handy too: How To Flush the Toilet in Italy