If you are thinking of learning Italian online, Think in Italian is the best way. Among the sea of online options, is the only course
You decided to learn Italian online. Now you need to choose which way to want to study. You will find countless courses and prices but
You decided to learn Italian online. Now you need to
On the world wide web, there are many courses for
Have you ever wanted to learn Italian but the traditional
The time needed for learning a second language is an
Please, come to l'Antico Ceramiche and learn how artistic handmade ceramics can be created. The artist Cristiano Cambi anticoceramiche.it exceptionally opens the doors of his
Last week, Italian artist friend of mine Gaetano Fiore asked me if I would like to attend the opening evening of the Anima Mundi exhibition at the Galleria Zamenhof in Milan. I'm pleased to say that I went, and aside from learning more about Italy's contemporary art market, I also met some talented artists, and a interesting gallery owner.
In response to a comment on the article on the earthquakes which shook Italy up last Sunday 20th May, here is a brief article which
While the Italian region of Abruzzo is well known for its culinary specialties: pecorino (sheep cheese), pasta alla chitarra, brodetto (fish stew), the undisputed King
I popped in to my local, the 442 pub this evening and was very happy to note that the place was choc-a-bloc. And there were
Deep down in the Le Marche region of Italy there is, I am reliably informed, a fabulous bi-annual battle re-enactment which takes place in a lovely hilltop Italian town called San Ginesio.
Italian singer songwriter Jovanotti, or Lorenzo Jovanotti Cherubini as he bills
Those who live in Milan will know that the San
Wonderful……but you should read this post on possible pitfalls regarding buying apartments in Italy before committing yourself. Please note that these observations do not apply to detached/semi-detached houses in their own grounds.
On a visit to Gubbio a few years ago with my Italian fiancée, I told her I though Umbria was very much like Cumbria but without the C.
Gaetano Salvo, friend and Blog from Italy researcher wants to sell his house. For those who might be interested, or may know of someone or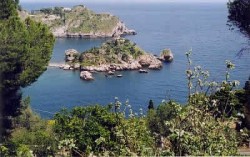 If you know your history pretty well, you may be aware that one of England's most celebrated Admirals possessed a rather charming villa in the scenic Sicilian town of Taormina.
Gaetano Salvo, friend and Blog from Italy researcher wants to sell his house. For those who might be interested, or may know of someone or
"Home from home" bills itself as 'a small comfortable bed & breakfast with cosy rooms where you will be able to rest in a friendly and relaxing atmosphere in the splendid Palermo countryside'.
The recently renovated Il Cedro bed and breakfast is located in the heart of Catanzaro and is comfortably situated in a garden of citrus trees and fruit.
Genius Loci Inn is not strictly a bed and breakfast, but it operates using a b&b plan. Coupled with its stunning internal presentation, this is reason enough for this place to be featured as an expat Bed and Breakfast. And it is run, in part, by Mary an American expat from Long Beach, California who, whilst studying for her History of Art degree in Italy, met and subsequently married Maurizio, a University of Rome graduate with a background in business and construction.
Looking for a unique "off the beaten path", homey accommodation offering a balance between complete independence and being a part of the family?
When looking for accommodation in a popular tourist destination like Rome, the main requirements are a central location, a comfortable room, friendly and knowledgeable service and, of course, affordable prices.