Welcome to Chapter Four, the concluding part of the Tuscan Tale of Giancarlo's Green Horse, the first tale in a series of short stories about life in the magical Italian region of Tuscany. 
Chapters One Two, and Three in case you missed them, are here: Giancarlo's Green Horse – Chapter 1 Giancarlo's Green Horse – Chapter 2, and Giancarlo's Green Horse – Chapter 3.
From Chapter 3: Matilde's all too rapid surrender to the idea of becoming a horse owner seemed, in retrospect, quite extraordinary – or ominous.  Either the woman was ill – which she never was, except for reasons of convenience, or, for some reason, she actually wanted a horse…
Giancarlo could not work it out.  He began to worry at the edges of the bar's newspaper, tearing off one corner of a page after another.  By the time Katia came to rescue her fast disintegrating property, Giancarlo's glass looked as if it had just left a wedding; surrounded, as it was, with black and white confetti.  Katia snatched away the copy of La Nazione and demanded to know what was wrong with, if not her favourite, one of her best customers.  The thought was so ascendant in Giancarlo's mind he could not bring himself to vocalise it: why in the world would Matilde want a damned horse?
Katia produced her professional noncommittal shrug.  What Giancarlo and his wife were arguing about this week, was none of her business.  But the question began to nag her.  Matilde was not the outdoor type – unless it were on some expensive, and exclusive, beach.  During inclement weather, the woman had been known not to leave the house for days.   A horse: why? .
Despite herself, Katia's curiosity was aroused.  She took a seat opposite Giancarlo and asked how the subject had arisen.  Giancarlo explained his desperate need for transport.  Katia nodded, of course, she already knew about the car accident – and its consequences.  Giancarlo told Katia about the improbably named, Brio, and that he had told his wife about using the animal to clear the olive terraces.
Katia was bemused. Giancarlo's argument had been inspired – except, why would Matilde care about the hours that her husband had to sweat, cutting grass, on the terraces?  Never.  Katia would not have been shocked if Matilde would not have welcomed the permanent departure of Giancarlo.  Assuming the kinds of insurance and pensions that Giancarlo would have been able to afford – and Matilde would have insisted upon – he would be far better use to her dead, than alive – causing his habitual embarrassment.
Katia joined her customer in pushing the scraps of paper about the table as if some magic answer might emerge. It did not.
It was only when Giancarlo told her that Matilde had described the animal as 'their green horse', did the solution come.  It was not among the scraps of paper, on the table – but was in an article Katia had read a few days earlier!
It did not take her long to find the piece: the Commune was setting up a new committee – and looking for members.  The local council had decided that there ought to be an investigation into the environmental issues affecting the valley.  Funding, for the committee, had been obtained, regionally, nationally and from the E. U. . As well as the kudos attached to being a member of such a committee, there would be substantial expenses available – and the opportunity to travel.  Applications, the advertisement said, would be particularly welcome from rural areas, particularly from people with an established interest in 'green issues'.
Giancarlo quickly followed Katia's reasoning: travel (without her husband) influence – and expenses – would have seemed a dream to Matilde.  The downside was that the woman was so unpopular as to be virtually unelectable. The upside was that Giancarlo was to get his horse – and there was still a remote possibility, that his wife might get onto the committee, spend long evenings away from home – and longer periods, away.
Giancarlo was delighted.  For the first time, in decades, he believed, if only by chance, he might have got the better of his wife . . . if only he could avoid the opportunity to gloat.  At worst he was going to get his horse.  What would happen afterwards . . . he could only guess.
Lauriano's visit was a great success.  Matilde was polite – if not exactly welcoming: Giancarlo and his friend ate out, a great deal.  Brio was a beautiful looking piebald gelding with, despite his psychological problems, a placid temperament and much admired by those who met him.  Matilde even managed to give the animal a tentative pat, before rushing off to wash her hand.
Maybe it was Katia who put word about; though it would be more likely Matilde was using the slogan as part of her attempt to be elected to the Commune's Committee, but the label of 'the green horse' was quickly, and firmly, attached to Brio.  It became common currency before, as nicknames occasionally are, it was extended and, all over the valley Brio became known as 'Giancarlo's Green Horse'.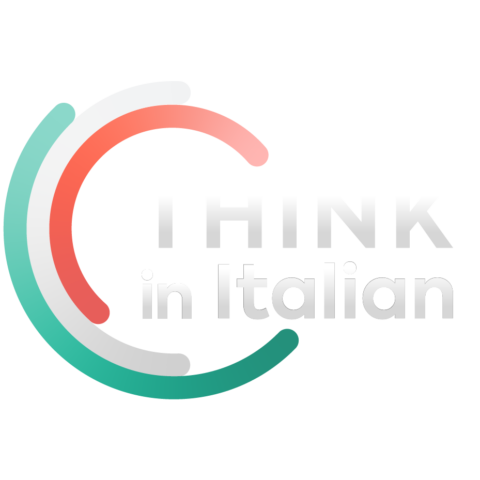 Stop reading, start speaking
Stop translating in your head and start speaking Italian for real with the only audio course that prompt you to speak.
Giancarlo enjoyed the fact.  It not only gave him a kind of celebrity, it may have persuaded those who did not know better that he was riding the horse, not because he was a bad driver – an Italian ignominy – but was making a principled stand.
Brio performed such a good job of grazing the terraces that, if it had not been for his regular exercise, carrying Giancarlo, back and forth, to his thrice weekly lunches, he would have been putting on the kilos.  The grass around the olive trees was as neat as it had been for as long as Giancarlo could remember.  An additional bonus was the generous mounds of manure the horse supplied.
All might have appeared perfect, except Giancarlo began to take his role as a green prophet rather  seriously. He became a member of GreenPeace.  He made and displayed posters on subjects as diverse as the advantages of solar power and the horrors of whaling in Antarctica.  He even tried to raise money for the organisation by offering rides on Brio during the summer festival.
It was not totally unexpected that someone, a still anonymous – but admired – someone, one night, painted Brio with green vegetable dye.  Giancarlo even took the implied insult in his stride.  For several weeks he, unashamedly, rode the green horse to his lunches – wearing his Mexican sombrero and poncho.  Soon, people gave up laughing at him – there was just no point.
By the time autumn was approaching, the weather was deteriorating, the last of the summer grass ran out and Brio did not need as much exercise, it was discovered that the blood sample taken from Giancarlo, after the car crash, was mysteriously missing.  The charges against him were dropped and the insurance company replaced his Volkswagen – with a newer model.
Giancarlo still rode Brio but, to be honest, as he had to admit to himself, he preferred his new car.
Matilde failed to get elected to the Commune's Environment Committee but in November she got the, probably more welcome, substitute; a bumper crop of highest quality olives that Giancarlo picked with his old friend Lauriano.
Hardly a thought was given to what might happen the next time the oil from Russia was turned off.
By Simon Law
Is this a true tale of Tuscan goings on?  Maybe, but Simon won't let on!
A new Tuscan Tale will be on Italy Chronicles in two days time.
About Simon
After Chelsea School of Art, Portsmouth Polytechnic and Ruskin College, Simon began work in the film and television industry in 1979 (United Motion Pictures, Southern Television, TVS, LWT, Thames Television, BBC, C4, British Screen, Skreba Productions …) as an assistant film editor, later as an editor – occasionally a director and producer.
Simon splits time between London and a small village in North Tuscany.  Between buying a house, beginning to do it up and the arrival of #1 son, he worked on: "The Last Syllable", a connected series of short stories; a novel, "Come Again" and a series of short stories about the village, "Santa Giuditta".
Enhanced horse photograph by Stephanemartin