While passing a relaxing week in Abruzzo, Italy, I was taken to the Fontefico winery and wine bar just outside the charming little town of Vasto.
The Fontefico winery is an artisan wine producer which produces around 20,000 bottles of wine each year, and what it produces, four reds and a white, it produces lovingly.  Fontefico also exports its wines all over the world.
I met one of the winery's owners, Napa Valley trained Nicola Altieri, and he was overflowing with enthusiasm.  Nicola runs Fontefico with his brothers Alessandro and Emanuele.
By the way, Nicola decided to find out about wine in California's Napa Valley because he knew that this area is expert not only in wine making, but also in wine marketing.  It's no good making the best wines in the world if you are unable to help wine aficionados discover them!
When people like what they do, they tend to do a good job – especially when it is their own business.  Nicola and his brothers like what they do.  I like what they do too, especially one of their wines which they have to all intents and purposes invented – Titinge Riserva.
Tasting Fontefico Wines
The wines Fontefico produces, and which I tasted, are:
Pecorino 2007 – a white wine which got its name from shepherds who noticed that their sheep liked eating a particular kind of grape.  "Pecorino", which is also the name of a cheese made is various regions of Italy, also means "sheep" in Italian.  Fontefico's white, and bear in mind that I'm neither a wine sommelier, nor a great lover of white wines, tasted fruity and somewhat salty to me.  The saltiness of this wine is one of its characteristics I was told by Nicola.  This means this white pairs with salty foods, such as fish and seafood.
Montepulciano d'Abruzzo 2007 – The Abruzzo regions classic red.  Fontefico's take on this Abruzzo red is full bodied and very pleasant indeed.  Certainly I wine I would choose if I spotted it on a restaurant wine list.
Costetoste Aglianico 2007 – This is a red wine which is more commonly found further south in Italy.  The area around Monte Vulture in Basilicata is a well-known Aglianico producing area.  Fontefico's version certainly tasted good, but there's something about Aglianico reds which just does not hit the right spot with me.  I don't know why exactly – probably just me.  Others, I know, do like Aglianico wine.
In the age old tradition of saving the best for last, here is my personal favourite Fontefico wine:
Titinge Riserva 2007 – As I mentioned at the start of this, Titinge (a name which means it touches or marks you) is the Fontefico's winery's own invention.  Boy was it good – it certainly left an impression on me.  A very full bodied, well rounded red.  Glorious!  I could have spent an evening drinking this red wine and went to far as to ask where I could get hold of some up here where I live in Milan.  It seems that I have a source.  It came as no surprise to me to learn that Fontefico Titinge Riserva has won awards.  If you click on the link it will take you to a list of wines which received a "crown" for excellence.  Scroll down to the Abruzzo section and you'll see Fontefico – Montepulciano d'Abruzzo Doc Riserva Titinge 2008.  As a matter of interest, Titinge Riserva is aged for 24 months in small oak barriques, before spending another 12 month period in a the bottle.  This seems to have done the trick!
Sorry, but I did not ask the prices, but if you are interested then contact Fontefico – they speak English.
Fontefico Wine Labels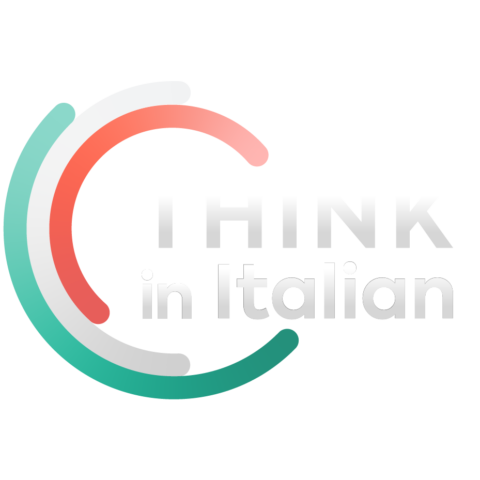 Stop reading, start speaking
Stop translating in your head and start speaking Italian for real with the only audio course that prompt you to speak.
I really liked the Fontefico wine labels.  They stand out and this should make this Abruzzo wine producer's interesting selection of wines easier to spot in a wine shop or restaurant.  Distinctive labels can help people remember wines – this is something I've written about before: Italian Wine and Labels.
It's good to see that the Altieri brothers realise the importance of having a distinctive label for their wine bottles.
The Winery Which is a Wine Bar
Well, if you would like to try Fontefico's wine offerings, and you'll like their location, I dare say  The Fontefico winery also doubles as a wine bar, there's plenty of seating and the surroundings in the midst of the vines, are lovely too.
Italia Sweet Italia and Fontefico
The Fontefico wine bar is a great place to while away a summer evening in good company sampling Abruzzo's wines, I'd say.
Anyway, as I was saying before, if you'd like to try these wines, you might like to hear that a visit to the Fontefico winery is on the Italy Sweet Italia Abruzzo experience holiday itineraries.
Now, it is thanks to Fabrizio and Gianlorenzo of Abruzzo tour operator Italia Sweet Italia, who kindly ferried me around the Vasto area of Abruzzo for a day, that I met Nicola (and his lovely mum) and tried Fontefico wines, as well as a very tasty salami.  I did not have to worry about drinking and driving.
The advantage of visiting Fontefico via Italia Sweet Italia is that you will be taken to the winery, which means you can drink all the wine you like without having to worry about driving.
Here are some more photographs of people having a good time at the Fontefico winery and wine bar.  Fontefico can also be booked for weddings and other events.  You can also find out more about the Fontefico winery and wine bar by visiting the Fontefico web site: Fontefico
Italia Sweet Italia's experience holiday packages – which can also be tailored to your requirements, can be seen here: Italia Sweet Italia