If you are thinking of learning Italian online, Think in Italian is the best way. Among the sea of online options, is the only course using a practical approach to deliver results.
What is Think in Italian?
Is an online course, created by an Italian polyglot, tutor, author, and translator. It differentiates from others because it teaches you to think and talk in Italian from the start. Regardless of your language level.
The benefits of speaking from moment one are:
Learning vocabulary in context.
Learning grammar by examples. Instead of memorizing rules.
Start developing listening skills.
Think in Italian is based on spaced repetition, the conversational method, and mimicking. This way you learn naturally like when you learned your native language as a baby.
The beauty of Think in Italian is that you only need 30 minutes a day for practicing. Now, you can say "good riddance" to endless hours surrounded by dictionaries, manuals, and books.
How does Think in Italian work?
Let's get to the specifics. This course is divided into two sections: Audio lessons (Ripeti con me) and Readings (Leggi con me). They include all language levels from beginner until advanced.

Audio Lessons
Today they are 250.
They were created for making you learn grammar patterns and remember vocabulary.
Italian and English transcripts are available for reading along.
You will find 30 sentences in each lesson. The idea is to listen the first time, read along the second time and repeat the third time. That is why you have 3 files (A, B, C).
You can also download the lessons in PDF format.
Bilingual Readings
Are a variety of more than 600 texts going from stories and news to real-life conversations and jokes.
1-minute slow audio reads, adjustable playback speed, and easy-to-use dashboard.
Accompanied by an Italian transcript for you to read along. And an English one for looking at words you don't understand.
Teach you vocabulary in different contexts for mastering both pronunciation and word usage.
Focused on fluency.
Free Resources
Grammar Lessons come with each Audio Lesson. Serve for explaining a bit deeper the grammar pattern you are learning.
Online Tests for checking your level and progress.
Blog Articles full of learning languages tips, tricks, and hacks.
Forum for practicing with the community of students your acquired skills.
Pricing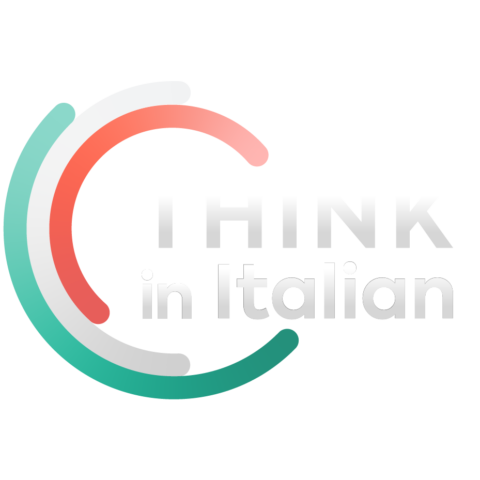 Stop reading, start speaking
Stop translating in your head and start speaking Italian for real with the only audio course that prompt you to speak.
Think in Italian offers a 7-day free trial and a free membership for you to see what the course is like. Besides, it offers monthly and annual plans.
The option of 1-on-1 tutoring is available at an extra cost.
Can I become fluent fast?
Following the repeating and speaking method, will make you express easily and articulately faster. Why? Because you will be learning by being immersed in the Italian language.
This immersion consists of learning the correct pronunciation from the start. And also make you speak with confidence after listening to authentic native conversations. Last, but not least, will make you understand vocabulary in different contexts.
Becoming fluent faster does not mean this course will rush you. But, as a huge advantage, it will adapt to you. It will adjust to your learning rhythm and language level.
Besides, making mistakes is encouraged as a way of practicing what you've learn. Is not frowned upon.
Become part of the success stories
One thing I love most about Think in Italian is the number of positive results users have documented. And the almost infinite number of reviews. This is the best way to learn Italian online regardless of why are you learning it. Business reasons, traveling, communicating with family, it helps you learn everything.
Another benefit of this course is to stop relying on translation for learning. Instead, it leans on natural language learning by exposing you slowly to Italian and its culture.
As you could read, there are a lot of advantages to using Think in Italian. So what are you waiting for to try it?