Every year in Milan, Italy there is the Sant'Ambrogio holiday on the 7th December.  Sant'Ambrogio is the patron saint of Milan and to celebrate the day dedicated to the Milanese Saint there is the 'Oh Bei, Oh Bei' mercatino.  It's a great place to do some Christmas shopping.
'Mercatino' literally means 'little market' whereas in actual fact the street market held near the Sant'Ambrogio church in Milan should really be called a 'mercatone'- which is 'big market', for that is what it is.
There is often a Christmas market on the run up to Christmas in the streets near Milan's Duomo cathedral.  Just walk up Via Dante, towards the centre of Milan.  Some photographs of a few of the stalls in the 2009 market have been added to give you a flavour of what's in store – and there are lots of good Christmas present ideas, believe me! I've been and bought.
Milan's Oh Bei, Oh Bei Fair

The Christmas market surrounds Milan's castle – Castello – which is at the end of Via Dante.
At the fair, should you wish to take a break, you will find tasty 'porchetta' sandwiches – which are made with pork, only this pork has been embellished with certain spices and tastes very good. You can also munch on the calorific round and flat pieces of dough, called frittelle which are deep fried in oil and then rolled in sugar.   Yummy, but not good for diets.   There are also stalls selling antiques, paintings and many other bits and bob and trinkets, many of which make ideal and often original Christmas gifts.
Lots of Christmas Present Ideas
The market itself is worth wandering around as it is a feast for the eyes and it also provides an opportunity to pick up a few presents and other things for Christmas.  The only problem is that the area became absolutely jam packed with inquisitive people, but it was well worth the battle with the crowds in my opinion.
Now the market circles Milan's castle, the crowds have a little more space to circulate.  Usually at this time of year the cold is starting to bite and everyone is dressed up in heavy winter coats to keep the cold at bay, so it might be chilly.
In 2006 the real cold had yet to make an appearance at the time of the fair, and the news of the day carried a piece about the absence of snow in the Alps below 2500 metres.  Global warming?
Anyway if you happen to find yourself in Milan on the 7th of December in any year, wander on down to the Castello area and do some serious browsing around the street market. It's worth it.  Oh and if it is cold, and even if it is not, order a 'cioccolato con panna montata' – a thick and creamy hot chocolate drink topped with spray on cream – from any nice looking bar that takes your fancy.  If you like chocolate, you will like this!
I should also add that the rest of Milan is a great place to do your Christmas shopping too.  There is a wonderful variety of shops and plenty of places which do presenty things in the centre of town – there is a good shop in Corso Matteotti, which is near Piazza San Babila.  I don't know the name, but it is on the left hand side of the road as you walk up Matteotti with your back to Piazza San Babila.
Have fun!
Milan's Pre Christmas Craft Fair
If you are thinking about coming to Milan to shop for Christmas gifts, then this more recent post on another interesting annual event in Milan may be of interest:  Milan's Christmas Craft Fair – L'Artigiano in Fiera
Christmas Market in Central Milan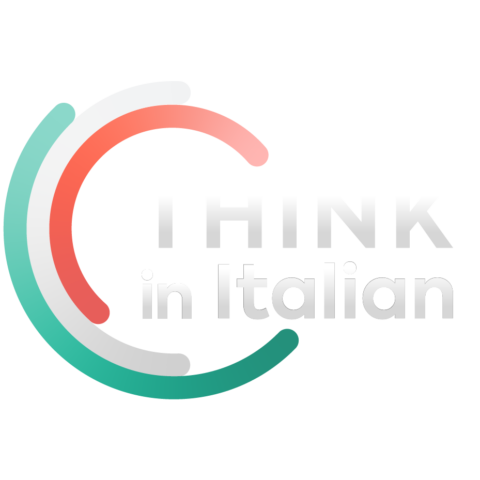 Stop reading, start speaking
Stop translating in your head and start speaking Italian for real with the only audio course that prompt you to speak.
Here are some photographs, this time from the Christmas market in Milan's centre.  What was for sale was very similar to what is on offer at the Oh Bei, Oh Bei market.
I took these photos in December 2009: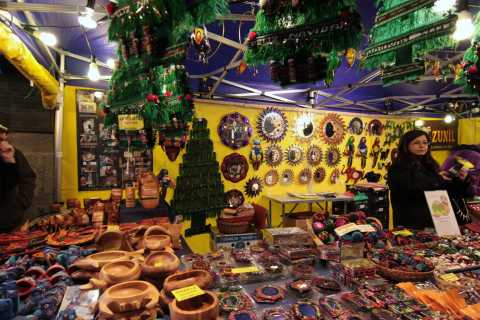 Cups and crockery for sale at on the run up to Christmas in Milan, Italy:
And candles to add some atmospheric light to Christmas:
There's more, much more – making Milan an excellent place for Christmas shopping – think low cost airline – but be careful with that luggage allowance!
Come to Milan and Do Some Christmas shopping
If, after reading about Milan's annual Christmas fair and Christmas markets you feel tempted to come to Milan, the BlogfromItaly.com partner Escapio has some interesting, good quality, Boutique Hotels in Milan for you to look at. Just bear in mind that if you load yourself up with Christmas gifts after a shopping spree in Milan, you might have to end up paying an excess baggage allowance on your flight home.  I just thought I'd mention this, as it is something you need to think about, and Milan is a dangerous place in terms of Christmas shopping choice!
Spice Up Your Visit to Milan
Here you will find a good choice sightseeing tours and other useful goodies, such as the handy Milano Card, which will help you get the most out of your visit to Milan:
Click the link for details and reviews of  Milan Sightseeing Tours and Activities.
If you do book something using the link above, Italy Chronicles may receive commission – so many thanks for helping this site grow and cover its costs – Alex Roe.  And don't forget to come back to Italy Chronicles and let us know how your trip to Milan went.
——
First two photos courtesy of Gloria Chang on Flickr who has a lovely selection of photos of Milan!
The rest of the photos were taken my me – Alex Roe.