For those with an interest in Italian politics (you masochists, you), gaining some idea of what is going on politically in Italy is no easy task at the best of times.  Making matters more complex are the names of certain government buildings which crop up with remarkable regularity in Italy's newspapers and on Italy's television news too.
It is fairly common practice for Italy's media to refer to government buildings by name and not by function.  Those unfamiliar with the names, such as recently arrived expats, may not find it too easy to understand just what is going on where.  If this is the case, this post is for you.  It might even help you understand more Italian.
To help reduce confusion and help others understand the significance of the government buildings mentioned, this post explains which official buildings do what in Italy.  It will also give their approximate United Kingdom and United States of America equivalents to help those of you from the UK and the USA.
Although all of the government buildings in Rome are undoubtedly fine examples of Italy's architectural prowess, I wonder how many curious tourists have wandered past not knowing what they are.  Mixed in with the rest of Rome's finery, these structures do not stand out, with the possible exception of the Italian president's residence.
Time to begin our little trip into Italy's buildings of power.
Palazzo Montecitorio – Italy's Parliament – Lower House
Located in Piazza di Monte Citorio (the space is deliberate), Palazzo Montecitorio is where Italy's lower house of parliament sits and carries on the process of government.
In Italian, Italy's lower house is known as the Camera dei Deputati.  There are 630 MPs in Montecitorio.

If this building were in the United Kingdom, it would be the Houses of Parliament.
Palazzo Chigi – Italy's Cabinet
Palazzo Chigi is the building, situated in central Rome in Piazza Colonna and Via del Corso, which serves as a meeting place for Italy's cabinet or Council of Ministers, which in Italian is: Consiglio dei Ministri.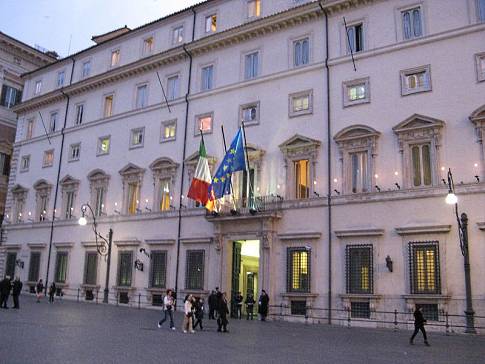 Palazzo Chigi is next to Palazzo Montecitorio.
Palazzo Grazioli – The non-Official Residence of Italy's Former Prime Minister
During Silvio Berlusconi's tenure, this was an kind of Italian equivalent of Britain's Number 10 Downing Street, and the non-official residence of Italy's former prime minister, is Palazzo Grazioli – which is in Via del Plebisscito, 102 in Rome.  As pointed out by reader Tommaso Benacchio – Palazzo Grazioli is not the official residence of Italian prime ministers in general and was rented by Silvio Berlusconi for use as his Rome HQ.  An official equivalent of Number 10 does not exist in Italy.
Palazzo Grazioli lies around 700 metres south of Palazzo Chigi and Palazzo Montecitorio.
An 850 metre walk away from Palazzo Grazioli is Italy's senate building in Palazzo Madama.
Note that ex-prime minister Silvio Berlusconi often uses his villa in Arcore on the outskirts of Milan in northern Italy as a meeting place for members of his PdL party.
Palazzo Madama – Italy's Upper House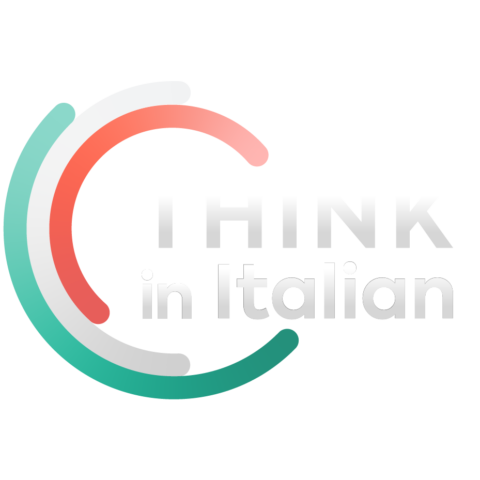 Stop reading, start speaking
Stop translating in your head and start speaking Italian for real with the only audio course that prompt you to speak.
Some 700 metres away from Palazzo Chigi and Palazzo Montecitorio is Palazzo Madama, which houses Italy's upper house or senate – Senato, in Italian.
Situated in Piazza Madama, the seat of Italy's senate is very close to Rome's Piazza Navona.
Italy's Senate functions in more or less the same way as Palazzo Montecitorio and has 315 members.
Quirinal Palace – Italy's President's Residence and Office
Also known in Italian as the Palazzo del Quirinale or simply il Quirinale, and often referred to as Il Colle – the Hill, this building, which sits atop one of Rome's famous seven hills, is where incumbent President Giorgio Napolitano has his official residence and his offices.
The Quirinale,  the approximate Italian equivalent to the United States' White House, is around 10 minutes walk from Italy's lower house of parliament in Palazzo Montecitorio.
Unlike the President of the United States, Italy's president does not posses any real executive power.  He, or she; though there never has been a 'she'; can merely voice dissent over the legitimacy of laws passed by Italy's parliament, but cannot refuse to sign laws into effect.
The Quirinale is a 15 minute, or so, walk from Italy's senate in Palazzo Madama.
A Curiosity
A number of ministers in former Prime Minister Silvio Berlusconi's cabinet unofficially officially (maybe that should be the other way round!) opened, er, 'branch offices' in Villa Reale in Monza in northern Italy.  Technically these branch offices should not exist, but they are mentioned from time to time in the news.  This outpost has since been closed down.
There, I hope this post may help satisfy somebody's curiosity.
If you are interested in how Italy's government works, you may find this post worth a few minutes of your time: How Laws become Laws in Italy.
Photo credits:
Palazzo Montecitorio – Manfred Heyde
Palazzo Madama – Francesco Gasparetti
Palazzo Grazioli – Lalupa