Last week, and not without a few hiccups caused by Italy's infamously byzantine bureaucracy, Eataly, part of a chain of stores which specialise in selling Italian food products and much more, opened a two new branches in Milan. I went, and I photographed the Eataly Smeraldo store, and tweeted. I loved it!
My overall impressions of Milan's spanking new Eataly store were extremely positive. The store is well laid out and it is crammed with all sorts of Italian goodies – from oranges and lemons, to vegetables, pasta, wine, beer, ham and even more. The sheer range of prducts Italy's offers is nothing short of overwhelming.
Actually, Eataly is more than a shop, there are a couple of restaurants, coffee and bars, and even an area for cooking courses. You can not only buy Italian goodies, you can eat them too! Great idea!
Curiously, I noticed German beer on display. This surprised me a little, though the range of Italian brewed beers is extensive and outnumbers the German beers around one hundred to one, maybe.
Overall, I found the new Milan Eataly store to be quite an experience. If it doesn't become a major tourist attraction, I'll be amazed.
Here's are some photographs of my visit today.
When I got to Eataly, there was a queue. Obviously, the new store has aroused quite a bit of interest. After a short wait, I was in.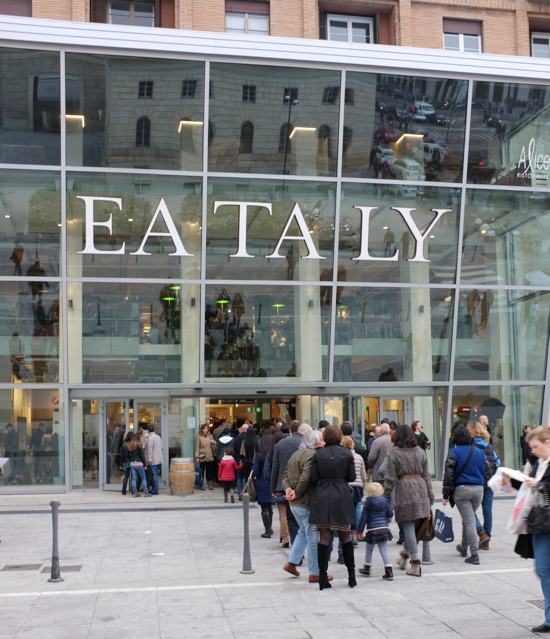 Walking through the entrance, which is also the checkout area, there were posters of well-known Italian personalities from the world of show business and music.
Then I entered a kind of market area and came across fresh apples, pears, oranges and lemons – all grown in Italy.
Fresh vegetables, also grown in Italy, were for sale too:
I explored the ground floor, and discovered it has a chocolate zone:
There's also a pasta area and fresh bread is available as well. That's not all. There are lots of interesting Italian products for sale in this Aladdin's cave of a shop. I even found Italian cosmetics.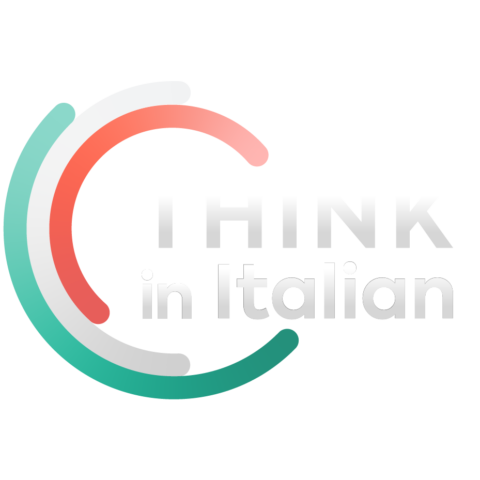 Stop reading, start speaking
Stop translating in your head and start speaking Italian for real with the only audio course that prompt you to speak.
Next, I headed up to the first floor where olive oils, salami, hams and even freshly roast chicken and an Eataly eatery can be found. Other's had found this restaurant too – it was packed!
The building the Eataly store finds itself in was once a theatre and there's still a stage. Live music while you shop? I spotted an ad saying that Eataly was looking for musicians.
On the top floor, there are three, I stopped for a coffee and had to photograph this impressive looking coffee machine:
Wow! Now that's what I call a coffee machine – made in Italy too!
Next time you find yourself in Milan, pop along to the Eataly store. You could have lunch there too.
Anything negative? Well, it was a bit crowded when I was there but it was a Saturday and it is new. The store will probably be quieted during weekdays.
The only other aspect of Eataly's new Milan outlet was that all the signs were in Italian. I thought this was a slight pity seeing as the store if bound to attract many people of different nationalities. A little English here and there would make a difference. Aside from this little groan, I loved Eataly's new Milan store and I shall be back to buy some goodies. Of that, you can be certain.
Eataly Milan easily qualifies as a Good Italian Thing. I'd even go so far as to say it's a shining example of Italian excellence. It's not so much a shop, as an experience and it's an experience well-worth having. And by selling, predominantly, Italian made goods, Eataly is supporting the Italian economy and giving the world a real taste of Italy.
Good stuff Italy! The Eataly store is wonderful, literally; it's full of wonders.
Eataly's Smeraldo store can be found near Corso Como and is very close to the Garibaldi train station.
Tip: If you are coming to Milan on business, try to get yourself booked into a hotel in the Corso Como area – not Corso Como itself, as it can get very noisy in the evenings.
In case you were wondering, I have no connection with Eataly at all.