Italians are cutting the amount they spend on healthcare according to the findings of the Sixth International Heathcare Barometer survey carried out by Europ Assistance, an international travel and healthcare provider.
Europ Assistance interviewed 5,500 people in 10 nations, including Italy, for their survey.
The key findings were:
The economic crisis has affected healthcare consumption in Italy.
27% of Italians claim to have postponed or canceled medical care due to lack of money.
Italians, as well as other Europeans and Americans, are in favor of home care and the use of new technologies to improve care quality for those unable to take care of themselves.
24% of Italians are in favor of taking out private health cover.
What caught my eye was that the Italians surveyed did not rate the skill of Italian doctors very highly, as you will see below.
Here, in a series of infographics is more on what the Europ Assistance survey discovered.
Some of the results may surprise you:
Oh dear.  Italy's population do not seem to be overly happy with their quality of life.  Americans and other Europeans are happier.
However, they are keen that medical science continues progress.
Few Italians are happy with Italy's health system, nor do they rate the competence of their doctors very highly.  4.6 out of ten is not a particularly healthy score, even if it is slightly better than in 2011.
Unfortunately, Italy has a propensity for cronyism, which means it is likely that some doctors pass exams simply because they know the right people.  It is not clear how widespread this problem is, although the results of this survey indicate that it is a problem.  Furthermore, doctors with the right skills may be passed over for promotion to senior positions in Italy simply because they do not have the right connections.  While this is bad in any work environment, it could be lethal, literally, in the healthcare field.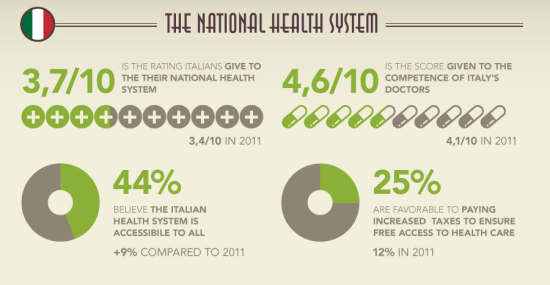 The economic crisis has caused 27% of Italians to spend less on healthcare, with 4% buying fewer medicines.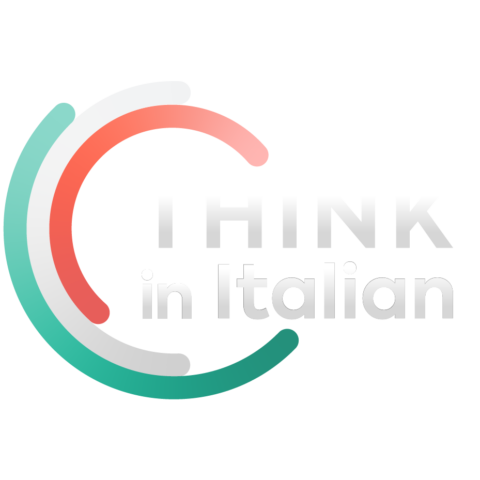 Stop reading, start speaking
Stop translating in your head and start speaking Italian for real with the only audio course that prompt you to speak.
When selecting vacation destinations, the quality of healthcare offered is important for Italians.
Being old in Italy is not a pleasing prospect for Italians who think care for the elderly is not good and is worsening.
More Italians are using the web to look for information on health matters than in 2006.
35% of those Italians surveyed suffer from work-related back problems.
And finally, while Italians do not appear to be very happy with their health system, they do believe it offers economic benefits.
All in all, the survey serves to confirm the private opinions of many Italians which is that healthcare in Italy is patchy.  Some regions are much better than others.  As a general rule, healthcare worsens the further south in Italy one goes.
That private healthcare appeals to Italians is not much of a surprise.  Generally, private healthcare is of a better quality, although there have been scandals involving certain private healthcare providers in Italy, so controls do not seem to be enforced.
Italy's government is talking a look at Italy's healthcare system, so change for the better may be on the cards.  It will be interesting to see the results of next year's Europ Assistance International Heathcare Barometer survey as it may, or may not, show that progress has been made.
——
With thanks to Europ Assistance Italy for providing information in English.