Over on my, erm, rather neglected site devoted to raising awareness of contemporary Italian artists and their wonderful works, Italy is in, I wrote about Italian artist Gaetano Fiore, after having been introduced to his work by friend and SEO expert, Sean Carlos of Antezeta.
Well, writing about Gaetano and popping the results on the world wide web for all to see had a positive effect for this talented colour-monger of an Italian artist, as I'm both pleased to say, and, as I suspected it would.
As a result, I was invited by Gaetano and his charming family to lunch with them last Sunday.  I went, camera in back pack, and spent a lovely afternoon chatting with this Italian artist, whose popularity is, I am very pleased to say, growing.
Quite a Guy, Quite an Artist
So far I've met two Italian artists in person, sculptor Gianpietro Carlesso, and, now, Gaetano Fiore.  Both have surprised me with their humbleness, and both are charming, and exceptionally talented.
Gaetano Fiore is also an avid jazz fan, which is something I think comes through in his work, and he did say that while he works he listens to his extensive collection of CDs and vinyl.  I even learnt from him that certain records use better quality vinyl than others, which is why they sound better, and last longer.  Fascinating.
Somehow, although undoubtedly with the help of his lovely and supportive wife Elisabetta, Gaetano manages to raise a family too. Elisabetta and Gaetano have two children, little Marco, who is only 10 months into life, and the very sweet Federica, who is nearing six.  I'm not quite sure how Gaetano manages to find the time to paint, but find it he does, and the results are eye catching to say the least.  Photographs do not always do his work full justice, as I noticed from one of the catalogues he gave me.
The Proud Owner of One of Gaetano Fiore's Works!
To thank both Sean and myself; Sean has been helping Gaetano out with his website; for our contribution, Gaetano presented us both with signed examples of his recent work.  The painting he kindly gave me is "albero di nuvole"  – 'Tree Clouds", which is on heavy handmade Amalfi paper.  So now I am the proud owner of one of Gaetano Fiore's works – number 2 of 2!
Thanks Gaetano!  Blogging certainly has its rewards, and I count myself lucky to be able to meet and know such talented people.
Good Settings for Gaetano Fiore's Work
Quite a few examples of Gaetano's work can be found in his Treviglio home, but I think they would grace the walls of either a chic up market hotel, bar or restaurant, or even an ultra modern penthouse overlooking central park in New York.  I'm sure an interior designer would be able to use Fiore's work to add that personal touch to a project.
And, as I'd already mentioned to Gaetano, I really do think his paintings, like the one shown above, could be turned into an excellent series of limited edition carpets or rugs.  If you agree, and know of any designers or manufacturers who might be interested in such a project, then do please let me know, or contact Gaetano directly.  His wife Elisabetta, who is of German descent, speaks German, so German companies are more than welcome to contact the artist as well.  I could also help out if anyone needs help communicating in English with Gaetano.
Elisabetta's late mother encouraged Gaetano and helped him display his work in Germany, where he is probably better known as an artist than in his homeland of Italy.  But then Italy is an odd country which, at times, seems virtually incapable of appreciating its many assets.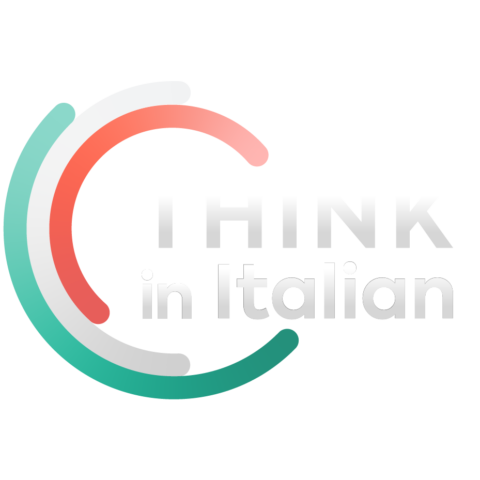 Stop reading, start speaking
Stop translating in your head and start speaking Italian for real with the only audio course that prompt you to speak.
You can find out more about Amalfi paper by visiting La Scuderia Del Duca, where you will also find an extensive selection of writing products and other original gift ideas.  You can even order wedding invitations on Amalfi paper too.
Something for Nothing
In Italy, it is unusual for someone to do something for another for nothing, unless there is a 'connection', but then that's Italy.  So when someone like me, who comes from a different culture, and who does not really know a person at all, goes and does something which lends, an albeit slight, helping hand, it comes as something of a surprise to an Italian and is greatly appreciated.  I don't really expect anything in return for publicising Italian artists, even if, over time, I do hope the exercise generates enough of an income to allow me to devote more time to the promotion of contemporary Italian art, seeing as Italy does not bother.
In a country which is renown the world over for art, it may come as some surprise to hear that artists and authors are generally expected to make a financial contribution to have their work displayed or published, as the case may be.  Such a system means that there are quite probably discoveries to be made in Italy, as not everyone will have the means necessary to pay to have their work shown off.  A shame, and in its own small way, Blog from Italy's sister site Italy is in, is an attempt to find a way round the Italian 'system'.  And, in a small way, it is having an effect, as I hoped it might.
Should anyone out there on the world wide web read this and think he or she might be able to lend a helping hand, then do let me know, and read about my dream:
I Have a Dream
I'm a Piscean, which means, so I am led to believe, that I am a dreamer.  One of my dreams is to set up a travelling Italian contemporary art road show, which would give a few Italian artists the opportunity to show off their undoubted talents to a worldwide audience.
Trouble is, while dreaming is free, setting up world hopping art exhibitions certainly is not, and I am not Bill Gates, so I do not have the cash to splash.  Setting up such a road show would require locations, accommodation, transport and insurance costs, and some staff to organise and monitor everything.  Yes, we are talking sponsorship, but the cause would be worthwhile and would reflect well on the sponsor, or sponsors.  The current worldwide crisis won't help matters either, but involvement in such a project may well mean coming out of the crisis in a good light.
If anyone likes the sound of such a project, please do get in touch.  Gaetano Fiore, for one, would be most grateful.
Oh, and sculptor Gianpietro Carlesso's skill is achieving greater recognition in Italy too.  But then it damn well should be – his work is exquisite: example.
Need SEO and web marketing advice?  Go see Sean Carlos of Antezeta
Visit Italy is in – Blog from Italy's sister site about Italian contemporary artists and their work.
Photos by Alex Roe 2009 – no stealing – the subjects featured are not my work, alas!