In this week's voyage into the world of Italian design, we will take a step back in time to the 1980s, and take a look at the radical Memphis design movement which played a key role in the promotion of Italian design worldwide.
The Memphis design movement encapsulated post-modernist design in the 1980s, challenging perceptions of 'good design' through their gaudy ornamental and decorative products.  The Memphis design group produced many memorable pieces of colorful,  bright, and innovative furniture, lighting, and textiles, and even clocks.
Formed in Milan, Italy, the Memphis design movement was a group of Italian designers, architects, and writers.  The movement's members included some designers who were fresh out of university as well as a number of names who were already well-known in the field of design, people such as: Ettore Sottsass, Alessandro Mendini, Martine Bedin, Andrea Branzi, Aldo Cibic, Michele de Lucchi, Nathalie du Pasquier, Michael Graves, Hans Hollein, Arata Isozaki, Shiro Kuromata, Matteo Thun, Javier Mariscal, George Sowden, Marco Zanini, and the journalist Barbara Radice.
Many went on to work with the likes of Alessi, Kartell, Artemide and Olivetti.
So how did the Memphis movement begin?  And how did an Italy-based design movement end up with a distinctly American sounding name?
Bob Dylan
The Memphis design movement was founded by the late Ettore Sottsass on the 11th December 1980.
It was named 'Memphis' after the Bob Dylan song "Stuck Inside of Mobile with the Memphis Blues Again".  Ettore Sottsass called Memphis design the 'New International Style'.
The Memphis design movement was a reaction to the slick, black, humorless design of the 1970's, with its minimalist design of typewriters, buildings, cameras, cars, and furniture; all of which were visually similar and, in the eyes of the Memphis group members, devoid of personality and individualism.
In contrast, the Memphis movement produced bright, colorful, shocking pieces which reflected the era perfectly. Whilst plenty of design-watchers at the time the movement began considered their products tasteless, they were ground-breaking.
The movement's overriding aim was to develop a new, mostly radical, approach to design.  Inspiration was drawn from such movements as Art Deco and Pop Art, as well as 1950's Kitsch styles and futuristic themes.  These fonts of inspiration led to the creation of concepts which were in stark contrast to the principles of so-called 'Good Design'.
Ground-breaking Exhibition
On the 18th of September 1981 the group showed its work at the Arc '74 showroom in Milan. The show included clocks, lighting, furniture, and ceramics created by internationally famous architects and designers.
Included in the Memphis collection was the Superlamp; a metal semi-circle painted black with rainbow-coloured sockets in which six uncovered light bulbs were fitted.
There was also the Beverly cabinet with its clashing hues of yellow and green along with snakeskin-print doors. The Carlton bookshelf was a marvel of creative design with its angled shelves and ensemble of bright colours. Most of the Memphis collection products were finished in brightly coloured laminates.  Laminates were most commonly used at that time to protect kitchen furniture, but the group specifically chose this material because of its obvious "lack of culture".  Radical indeed.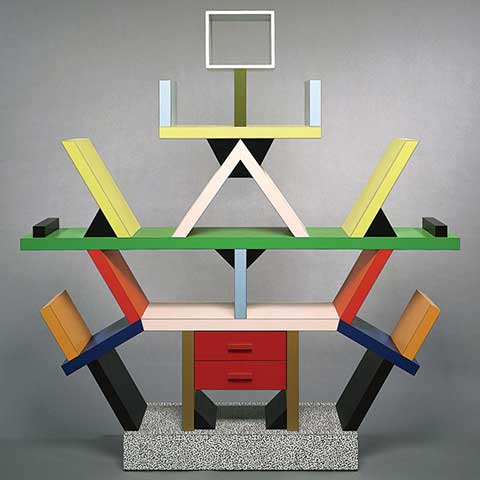 Master Communicators
The work of the Memphis design movement has been described as vibrant, eccentric and ornamental, and yet little about Memphis was truly innovative.  The group were expert at communicating their ideas, and at manipulating Ettore Sottsass' numerous contacts.  Sottsass used his influence to persuade Artemide, the Italian lighting manufacturer, to work with them.
Breaking Down Barriers
Conceived to be a deliberate 'fad, Sottsass dismantled the group by 1988.  Sottsass and the Memphis Movement had made a form of 'political' statement which was intended to rock the design world to its very foundations, and aimed to crumble the barriers between high and low class design.
To some this concept was alien, but to others the work of the Memphis movment shouted freedom, and inspired designers from around the globe to join the movement and create their own Memphis pieces. Fashion designer Karl Lagerfield and American architect Michael Graves both furnished their offices with Memphis designs.
Memphis' Lasting Influence
Although the movement and the group behind it no longer exists, the movement's influence within graphic, interior and textile design is as strong today as it has ever been.  Contemporary designers looking for inspiration find many aspects of Memphis design invaluable to their work.  Whilst not to everyone's taste, the boldness of the movement and its  creative freedom aspects inspire many to come up with designs regardless of whether they are perceived as being against current trends.
Catharina Lorenz is one of many designers influenced by Sottsass and his work.  Today, Lorenz and her partner Steffen Katz run a design studio in Milan (www.lorenz-kaz.com). Lorenz * Kaz produce furniture, products, and graphics, among many other things.  Working in Sottsass' studio for over 4 years, Lorenz absorbed the spirit of his creative process and exploited this knowledge to create commercially successful designs.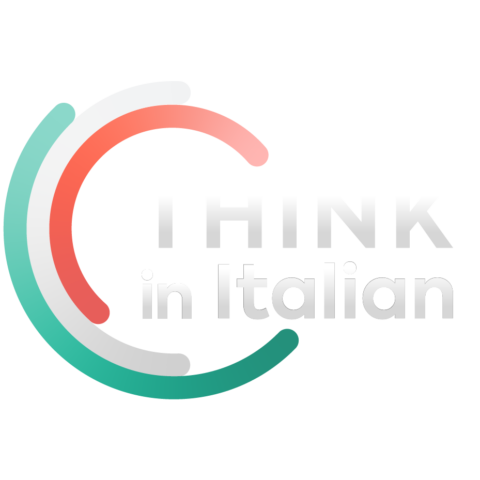 Stop reading, start speaking
Stop translating in your head and start speaking Italian for real with the only audio course that prompt you to speak.
"Sottsass was a joy to observe and work alongside. He gave his designers a certain freedom to explore, have fun and produce exceptional products", said Lorenz of here time under Sottsass' wing.
Where are the Memphis Group Now?
Although Sottsass passed away in 2007, other former members of the original Memphis design movement are still successfully involved in the international design scene, although over time many have become more restrained in their approach to creativity.  Michele De Lucchi creates industrial design products for, amongst others, Dada Cucine, Kartell, Matsushita, Mauser, Poltrona Frau, and Olivetti.  His most conceptually innovative projects are to be found in the work he has produced for Compaq Computers, Philips, Siemens, and Vitra.
De Lucchi's creative approach revolves around a conceptual exploration of architecture, design, technology, and crafts.  He designs buildings, exhibitions, installations for indoor spaces, and industrial design products. Another Memphis group member, Andrea Branzi, an architect and designer, was a founding partner in the successful Domus Academy design school which offers post-graduate design courses.
There have been many retrospective exhibitions of the Memphis group's work and, no doubt, there will be many more in the future.  The Memphis group's work continues to provoke opinions ranging from high praise to outright denigration, but whatever people think of the group's, there can be no denying the fact that that the Milan, Italy based Memphis group made their mark on the history of design, and the fruits of the group's labours certainly served to kick start the career of many designers and architects.
Thanks to Dennis Zanone, a Memphis-Milano collector in Memphis, TN, you can see a Flickr slideshow of lots of very interesting examples of Memphis Design below.
If you cannot see the slideshow, click here.

Here is an interview with Memphis Design collector Dennis Zanone.
The Memphis movement also created various clocks, and influenced the designs of other clocks too.  You can see some examples in this article:
Books on Memphis Design
| | |
| --- | --- |
| | |
| | |

About Paolo Feroleto
Having a genuine passion for Italian design and design in general, Paolo Feroleto is a designer of Italian origins with over 13 years industry experience obtained from working in mixed discipline studios in the UK and abroad.
Paolo has worked with a range of clients – from small independent retailers, to large blue chip companies, both in the UK and Europe. His projects have included building corporate identity, designing literature, creating stands for exhibitions, as well as devising graphics for retail outlets and websites. Here are some examples from the interiors section of his portfolio: Four Design – Interiors
Paolo also teaches Graphic Design on a part-time basis and has developed creative workshops for use in education and professional environments.
Currently based in the UK, Paolo like to spend his time travelling as much as possible. You can reach Paolo though his company, Four Design.
Images
Superlamp by Martine Bedin
Carlton bookcase by Ettore Sottsass
D'Antibes bookcase by George Sowden