A while back I wrote about a selection of places to eat in Bologna, Italy.  Well, here, finally, is part two of Bologna resident, Tiziana Zanasi's, recommendations on restaurants in Bologna which are worth trying.
I know just how difficult it can be to find good places to eat when you visit a new town.  This post, and Part One, should help you find some good places first time!  You cannot beat a bit if local knowledge.
Here are two more places to sample.  And one of them, oddly enough, does not serve Italian food.
Buon appetito!
Bologna's Historical Da Vito
Tiziana on the Da Vito:
"If you don't mind walking a little, and are prepared to venture outside the ancient city walls (It's safe – Alex), some 20 minutes on foot from Piazza Maggiore along Via San Vitale, you will find one of the oldest Osteria in Bologna – Da Vito.
Da Vito is well-known to everyone in Bologna, mainly because it was popular with a number of  famous Italian songwriters.  Italian legends such as Francesco Guccini (who lived nearby, in "Via Paolo Fabbri" 43), Lucio Dalla, and Gianni Morandi all used to eat there, as you can see from the photographs which line all the walls inside.  In times past, it would not have been unusual to have seen one of them, singing and playing guitar surrounded by friends and with a glass of wine in hand.
The Da Vito restaurant is highly regarded by Bologna's residents, so booking is a must, and is not expensive compared to some other restaurants in Bologna: a filling meal costs around 20 Euros a head.
This popular restaurant serves traditional Bolognese fare in an no-fuss atmosphere. Tables are very close together as the place is small, and they are covered with classically Italian red and white check tablecloths.
Although there are five courses listed on the menu, each course is only a few dishes.  However all are cooked to traditional recipes."
What to Try in Da Vito
These are the dishes on the menu I think you should try: as an overture, order "antipasto della casa" which is consists in a large choice of Bologna's hams, with cheese and…croissants! Don't turn your nose up! Try this unusual but traditional mix of sweet and savoury!
As a first course, order "tagliatelle al ragù", "tortelloni" with either "burro e salvia" (butter and sage) or "zucca" (pumpkin) as they are all delicious.
Next, you can try a gorgeous "stinco" (pork shank- the sacred animal of Bologna) with roast potatoes.. Warning:  Not to be eaten at the height of summer!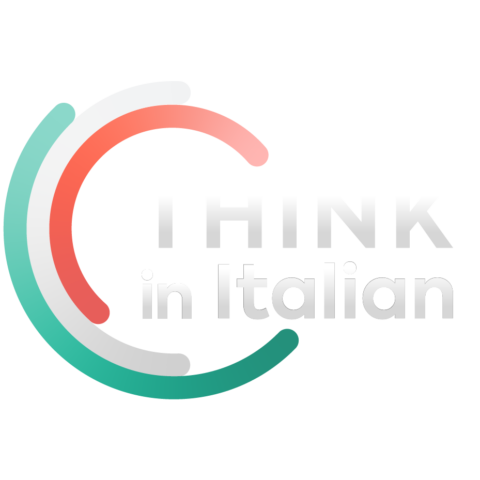 Stop reading, start speaking
Stop translating in your head and start speaking Italian for real with the only audio course that prompt you to speak.
To drink, I suggest to go for "vino della casa" (house wine).  Don't panic if the waiter brings you a 2-litre bottle of wine:  you'll only pay for what you drink – (If you do manage to down all 2 litres, you'll probably come out of Da Vito in the mood for song. Now I understand why Italy's singers liked this place! – Alex)
DA VITO (website is in Italian) – Bologna restaurant, Via Musolesi 9, Bologna. Telephone: 051 349809
Closes: Wednesdays
Comment Via Twitter on Da Vito
Stefan Labuschagne on Twitter as thepinkcat: "I went to 'Da Vito' last week in Bologna and it was delicious ! Had something called gramignia and the 'stinco'. Great!!".
Word of warning here: While 'Stinco' – pork shin – is very, very good, is not really summer dish – unless temperatures are very low.  Stinco is hearty late-Autumn-Winter-early-Spring fare.  Well worth trying.  I like Stinco a lot.
To Steki A Greek Restaurant

Secondly, Tiziana suggests trying "To Steki", which is close to Piazza Verdi and Teatro Comunale, in the heart of Bologna's university area.
Of this eatery, Tiziana comments that:
"It's a Greek restaurant, but in addition to mussaka and suvlaki (a kind of kebab) they have a good choice of fish dishes, like baccala (salt cod) with tomato and potatoes, or filled calamari and grilled meat. The food is superb.
It's a very popular spot, so it is a good idea to book.  Prices are reasonable, but higher than those of the Osteria dell'Orsa (See Part 1).  A  medium-sized meal can cost around 18-22 Euros.  Service is fast and professional, though kind and warm.  You can dine on the patio area which lines the street, or inside, in front of the bar area and the grill.  Space is is limited, and tables are small and very close to one another."
TO STEKI Greek cuisine and fish – Largo Respighi 4,  Bologna.  Telephone: 051 168012
Closes: Sundays
Many thanks to Bologna resident Tiziana for all her recommendations, even if I have to admit to being a little surprised at seeing a recommendation from an Italian for a Greek restaurant in Bologna.  Must be good!
Stay With Tiziana
To find out more about the Tiziana's Studio Due Torre Apartment in Bologna, click here: Studio Due Torre Apartment – and if you do try the restaurants listed here, please pop back and let us all know how you got on.
Photo credits:
Bologna images  by DanieleDF1995 and Giovanni Dall'Orto