Every Easter in Chieti, Abruzzo, Italy's oldest religious procession, the Processione del Cristo Morto il Venerdì Santo – the Death of Christ procession –  takes place on Good Friday.
Up to 40 000 visitors (with very few foreign tourists among them) come to the small town to view it.  While I am a staunch non-believer, even I have to admit that seeing the torch-lit solemn parade managed to take my breath away.
This tradition started in 842 AD as a much smaller affair, with fewer participants.  Today's Easter procession took the form which exists today in the 18th century.
During the procession, thirteen local congregations carry different religious symbols such as l'Addolorata, il Cristo Morto, and l'Angelo Alato.  Many of the sacred symbols have been used in this Easter event for centuries.  The wooden figure of Christ, for instance, dates back to the 18th century, and the statue of mourning Virgin Mary is over 100 years old.
The men and children in the procession dressed in hooded robes.  As they walk slowly through the old streets of central Chieti, the spectators remain respectfully silent.
International Dignitaries
Participating in solemn parade are local and international dignitaries (this year the mayor of Chieti kindly invited the ambassador of South Korea to join him in the procession) and a magnificent 150-strong male choir singing Miserere by Selecchy accompanied by an orchestra of 100 violins, clarinets, and flutes.
The procession starts at around 7pm at the impressive cathedral of San Giustino but the streets fill up with people well before that.
Well Organised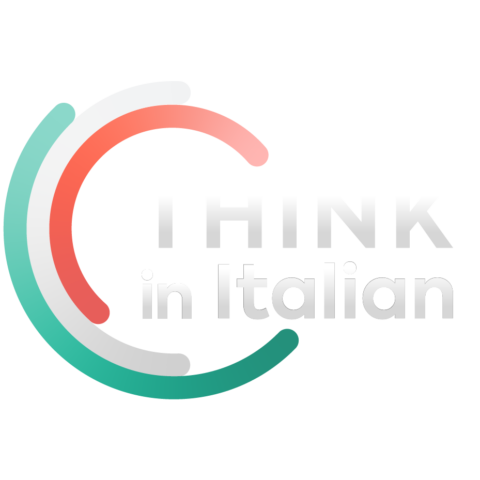 Stop reading, start speaking
Stop translating in your head and start speaking Italian for real with the only audio course that prompt you to speak.
For visitors; remember, there are up to 40,000 of them; there is car parking at Chieti Tricalle from where a shuttle bus runs to the town centre every few minutes.
[googlemap lat="42.351793″ lng="14.167151″ align="undefined" width="500px" height="330px" zoom="11″ type="G_NORMAL_MAP"]Italy[/googlemap]
If you do ever happen to visit Chieti at Easter, after the procession follow the locals: they form orderly queues in pizza al taglio – pizza slice – shops, eat in restaurants or go for a quick spot of… shopping.  Yes, some of Chieti's clothes shops stay open late and their bright windows look quite out of place in the torch-lit ancient streets of the town immersed in the somber atmosphere of the centuries-old procession.
Other Easter Traditions in Abruzzo
Many other smaller towns hold traditional Easter ceremonies but this year, on Easter Sunday, I am going to Sulmona to see a beautiful re-enactment of 'La Madonna che Scappa' on the main Piazza Garibaldi.  The tradition goes back to the 11th century and climaxes with a minute or two long run with the statue but the happy excitement is in complete contrast to the solemnity of the Chieti procession.
To read more about the Sulmona ceremony visit Lifeinabruzzo.com
About Anna
Anna Lebedeva has lived in Russia and Ireland for many years. Now she lives and works as a freelance journalist in Italy.  Anna is Italy Chronicles Abruzzo correspondent.
When not researching or writing her next article, Anna is trying to grow organic vegetables in her garden or persuading her lively floppy-eared dog Gogol (named after the Russian writer) not to trample on the seedlings. She loves creating her own vegetarian recipes, cooking, hiking in the Apennines or simply relaxing with a glass of Montepulciano d'Abruzzo wine.