We woke up on Saturday morning to a lovely bright sunny day, and somewhat out of character, Italian other half decides on the spur of the moment she wants to go somewhere.  Great I said, as I did my level best to exploit this rare moment of impulsiveness to the full.  Ferrara was suggested, as was Modena, and then we settled on Bologna, which my momentarily impulsive better-half had never seen.
The decision taken, a Red Arrow fast train to Bologna booked in the wink of an eye via iPhone and we were off!  Even eight year old little one, who, it has to be said, can be, like his dear mum, reluctant to move from the comfort of our sofa, grabbed his wheeled Heely shoe things in preparation for the big day out.
We got to Bologna very quickly – the fast train from Milan only takes around an hour – and headed off to find the Osteria Dell'Orsa which one of my Bologna based Italian readers had recommended in an article on where to eat in Bologna.  I was looking forward to trying this characteristic Bologna eatery.
The Osteria Dell'Orsa is not at all up-market, and is a popular place with Bologna's university students and workers on their lunch breaks.  Decoration is well-worn and rustic – the seats are benches.  While such a description may put some off, those who know Italy well will know that some of the best food can be had in some of the least well-presented Italian eateries.  I have found this to be the case too, so my hopes were high.
Disappointing
Well, Osteria Dell'Orsa, while being friendly, full of character, and packed, was not as great as I hoped it might be.  We ate in a kind of smelly (more on this later) basement, as the ground floor area was already full when we got there at about one.
Italian other half and myself ordered a dish of pork covered with speck ham and a cheese and mushroom sauce, accompanied by a portion of fried potatoes.  The wee one got pasta with sausage ragu.
Here's what my lunch looked like:
It does not look too bad, and it did not taste bad either, but was lukewarm, as was, I noted, my son's pasta dish.
Re-heated food is quite commonplace in Italy's thousands of coffee bars which serve lunchtime food, but I really was not expecting warmed up eats in this osteria, which I had been told was good.  Still, at around 15 Euros a head, it was not too pricey for three, including two beers, water for the little one, two puddings and coffee.  The puds were OK, but I've had better.
The other slight problem, as I mentioned before, was that the basement area became more and more stinky and this was in early January.  I do not want to imagine what the odour will be like in the midst of a hot and sweaty July!  Yuck.
In defence of the Osteria Dell'Orsa's cuisine, the dishes others were tucking into looked good.  Would I eat there again?  To be honest, no, I would not, at least not the next time I find myself in Bologna.  I will try somewhere else.  If, however, you have eaten in this eatery and found the food to be fine, please do let me know and I'll add another 'review' here.
Bologna – Beautiful Buildings Abound
Lunch in Bologna was not exactly a high point of the day, the city, fortunately,most certainly was.
If you have never been, Bologna is well worth exploring.  I suspect one could spend a week wondering around and discovering what there is to be discovered – a day is not enough, especially if you like taking photos.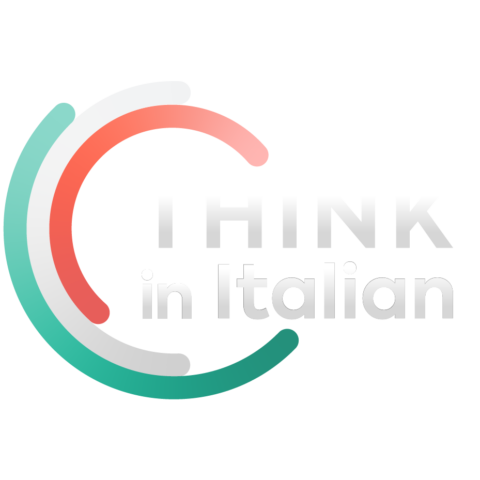 Stop reading, start speaking
Stop translating in your head and start speaking Italian for real with the only audio course that prompt you to speak.
Photographers will find this Italian city provides plenty of photo opportunities.  Beautiful buildings abound and the marvellous portico-covered sidewalks are everywhere.  These portico covered pavements keep the rain off in winter and help keep everybody cool in the heat of the summer.  They are fabulous and every city should have them!  They also look gorgeous – here is but one:
After the uninspiring lunch, were sauntered around for a while and ended up climbing the seemingly endless and narrow wooden steps of the tall Asinelli Tower.
For the view of Bologna and its surroundings, the struggle to arrive at the top of the tower is well worthwhile, I would say.  It is not a climb for those of advanced age, visitors with heart problems or children wearing shoes with wheels in their heels (On the way back down, I was terrified my son was going to slip and tumble to the bottom).  For those not in the best of condition, there are series of landings where one can rest and catch one's breath during the ascent.
Sorry, I cannot show you what the view looked like.  The battery on my digital camera had gone flat.  My bad.  Still, I did manage to take some shots of the rest of Bologna before my camera shut its little electronic self down.  More images from Bologna follow.
Here's a rather lovely arcade we came across:
There certainly are lots of lovely buildings lining the streets of central Bologna.  Buildings like this:
And this one:
And there were plenty more masterpieces adorning the streets of this historic Italian city.
As with other Italian cities, there are many interesting shops to explore even if Italian other half did comment to her father that the city was like many others in Italy in that the shops were the same as everywhere else – as in the UK, for example.  I don't really agree with this observation as I noticed plenty of older stores there.  It would be interesting to hear what others think on the Bologna shop front, so to say.
I will be off to Bologna once again in 2012 if I can manage it –  I want to spend the day there taking photographs.  And I want to find a restaurant which lives up to the city's reputation for being one of the best places to eat in Italy.
All in all, I really liked Bologna and would happily recommend adding the city to anyone's Italy itinerary  – especially if you are one those who find the crowds which invade Italy's big three – Rome, Florence and Venice – too much to bear.
Get a Guide!
If you do decide to visit Bologna, then read up on the city first.  Better yet, get a good guide – this will help ensure you see what interests you and will get the most out of your trip.  There's nothing worse than reading, after you get back from your Italy trip, there there was that wonderful sight in so and so street which you missed – simply because you did not read up a little first.
Here are some popular guides to Bologna from Amazon.com:
If you do go to Bologna, please come back here let me know how your visit went and how well, or not, you ate.