Have you ever wanted to learn Italian but the traditional lessons did not convince you? Today you can find an almost infinite number of online courses, such as Think in Italian, created to make you practice different skills.
Whether you want to learn Italian for traveling or for a job, online learning is the best choice because it adapts to you. Not only to your learning needs but to the aspects you want to focus on or practice more.
Additionally, learning Italian online allows you to have schedule flexibility and freedom. That means you can study wherever you want. Having the right tools at your disposal makes learning Italian less challenging.
This post will teach you how to find the best online Italian language course and helpful tricks to succeed. Nowadays, learning Italian couldn't be easier.
Why learn Italian online?
For English speakers, Italian is one of the most popular languages to learn and one of the easiest. Add to that the advantages of learning online such as affordable prices, a schedule you can create, and learning based on your needs.
You might think you won't learn Italian because you won't be immersed or because there is not a teacher following your progress. But nowadays learning a language online allows all that and more.
You can choose a tutor for having 1-on-1 lessons, you can find courses where you can be fully immersed in the culture, and you can subscribe to the website or mobile applications that make you learn while playing.
Which online Italian language course to choose?
The sea of online Italian language courses you can find online can seem endless but it is possible to divide them into 3 groups.
Before I began to describe them, remember to have in mind what aspect you want to focus on.
For example, conversation, grammar, and reading. And if you are a beginner try to have clear goals of what you want to achieve.
Tutors
If you want to become fluent in talking and having conversations with native speakers or other students is fundamental. You can find online many websites, like Italki, offering individual tutoring sessions to students.
With an individual teacher, you can practice conversation but you can also clear all your grammar doubts and answer questions at the moment.
If you are missing learning with other students, online you can also find tandem groups where you can practice and make friends.
Applications
Usually, most language websites offer a mobile alternative for you to study everywhere. There are several free and paid online applications for practicing Italian such as Duolingo, Babbel, and Mondly.
You can practice by blocks: grammar, vocabulary, or listening.
You can study at your own pace.
You decide your rhythm and how much time you study.
You can explore additional content.
An advantage of online applications is that you can listen to the lessons as many times as you need to understand. But you need to be motivated and disciplined because progress and fluency depend on you.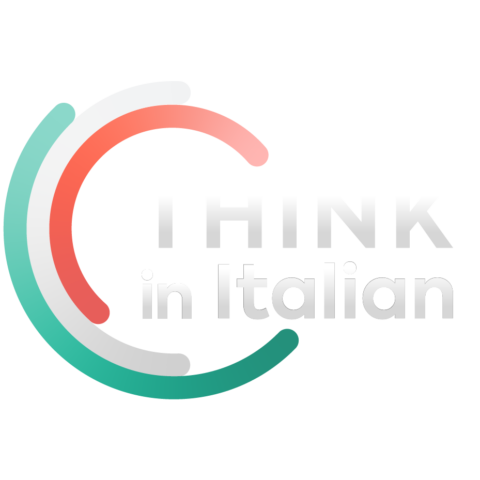 Stop reading, start speaking
Stop translating in your head and start speaking Italian for real with the only audio course that prompt you to speak.
In general, these courses are affordable and an amazing way to learn if you don't have a lot of time available.
Websites
Are the most popular online language learning platforms because they use different tools to make you learn in a fun and fast way.
They are useful for students with time constraints, busy schedules, and who want to learn at their own pace.
Usually, websites offer all the levels for learning a language. From total beginner (A0) to advanced (C1).
You need to be a very disciplined student because the learning depends entirely on you. Progress and fluency depend on practicing every day.
Nevertheless, there are sites such as Think in Italian that offer you an audio course for doing on your own but also the possibility of 1-on-1 tutoring.
Benefits of learning Italian online
As I have mentioned, learning Italian online means learning from anywhere you like, on your own time and rhythm. You can choose between a more traditional method or a method you can create.
Next you will find a list of tips for ensuring an excellent online learning journey.
Tips for successful online learning
Set small goals you can reach monthly.
Make a schedule and stick to it or follow a study plan. Practice makes perfect so studying every day counts.
Connect with others for making sure you practice conversation and solve doubts you might have.
Stay motivated and learn from your mistakes.
The best online Italian language course
As I said previously, there are online Italian courses for every need you might think. But I have found doing research that Think in Italian audio course is the best you can find because is the more complete.
It is based on the conversational method and spaced repetition which means you will start talking from the start and learning vocabulary in different contexts.
Besides, it works as an immersive course since it takes students in a deep dive into Italian culture, history and lifestyle.
It offers individual tutoring for students who want to practice conversations with native speakers and solve curriculum doubts.
This course also offers a 7-days free trial for you to see if the method works for you.
Go and try it! And remember the key to become fluent is by being consistent and practicing every day.