You decided to learn Italian online. Now you need to choose which way to want to study. You will find countless courses and prices but affordable and time-sensitive applications exist. Such as Think in Italian so don't panic.
In this post, I will suggest top applications and free resources for practicing, whether you are new to learning Italian or want to improve your vocabulary, grammar, or pronunciation.
It is important to consider each application fits certain needs and learning abilities. So it is key that you have some clear goals and objectives before starting to browse options.
Where to learn Italian online?
You can find thousands of applications, courses, and resources on the world wide web to learn languages.
One tip to make sure you choose a great one is to have an aim: do you want to practice a particular skill? Do you want to learn from the start? Or do you need to learn for a trip?
Once you define your target is easier to find a course and not feel overwhelmed.
The second tip is follow your learning habits and understand there is nothing wrong with the trial-and-error method. You can try a course, see if it works for you, and then decide to commit to it.
The third tip is to see if the application exercises the 3 major language areas: audio, tutoring, and reading.
Why the major language areas are important?
Audio is useful for learning pronunciation, understanding accents, and improving listening skills.
Tutoring helps you speak fluently, practice conversation, and solve any doubts you might have.
Reading is key to mastering grammar and expanding your vocabulary.
Applications
Here you can find a list of the most popular applications for learning Italian online.
Babbel is a platform that offers customized lessons to your level created by expert teachers.
Mondly helps you learn words and sentences like a game. You can also practice with a chatbot. It does not focus on progress.
Duolingo is great for beginners, for practicing grammar, and for setting the bases.
Pimsleur is for practicing your conversational and reading skills.
Think in Italian is the only course tailored to learning Italian. Uses repetition, and mimicking, and is an immersive experience.
Free resources
One of the advantages of learning Italian online is finding free resources. They can help you exercise and improve certain areas or skills. But you need to be careful when choosing them because not all are effective.
The most popular one is YouTube. It has thousands of videos and channels focused on language learning tips and tricks. It's also useful for practicing listening skills.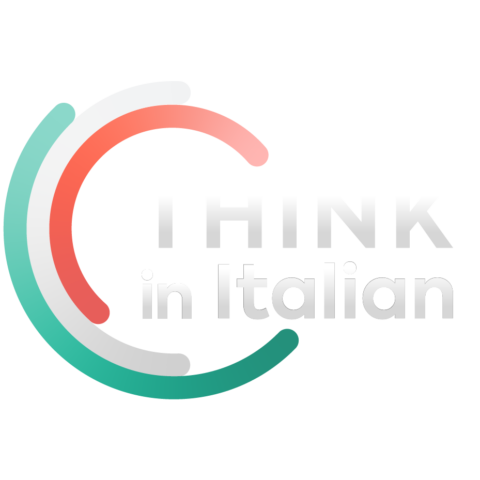 Stop reading, start speaking
Stop translating in your head and start speaking Italian for real with the only audio course that prompt you to speak.
Listening can be practiced with Podcasts and songs. They are tools that allow immersion in the culture, make you practice vocabulary, and recognize different accents. Additionally, they are fun and entertaining.
If you want to put your grammar knowledge to the test, Quizlet is the resource you've been waiting for. You can take quizzes on all the subjects you want and you can study using flashcards.
Last, but not least, is Tandem. A mobile application that links you with native speakers for talking and learning vocabulary. You can use texts, voice notes, and videos.
Is it easy to learn Italian online?
Italian is one of the easiest languages to learn according to the Foreign Service Institute. It is also easier to learn if you already know other Romance languages or if you have previous experience learning a second language.
Furthermore, online learning has many advantages when it comes to learning a new language because it offers the possibility to study in multiple ways. That means practicing desired skills following a customized plan and your schedule.
What is the best language learning application for Italian?
Learning Italian online is amusing and exciting. You might surprise yourself with how much you enjoy it as you learn and become fluent.
However, there are a lot of aspects to consider before committing to an application. For example, the learning methods offered, the quality of service, and the price.
Think in Italian is the best language learning application because is immersive. This way you can reach your goals in the time you hoped to meet. It is also a course that encourages practice and is based on scientific methods for making you learn better.
These are other reasons why this is the best online Italian language learning application:
Is the only course specifically designed to learn Italian. It's not like the other courses where you can choose between many languages. This is created only for learning Italian from a total beginner to an advanced level.
You learn how to talk in Italian from the start. Even if you are a total beginner. Learning how to communicate is fundamental for acquiring vocabulary in different contexts and listening to the correct pronunciation.
You have at your disposal more than 250 audio lessons, 600 reading lessons, and 80 hours of speaking.
Proven scientific methods are at the base of the learning structure. Not only for guaranteeing you will become fluent. But for making you learn smarter using the conversation theory and spaced repetition.
The focus is not on translating or memorizing but on thinking directly in Italian by practicing conversation with native speakers every day. And by repeating everything you hear.
You have the option of taking your lessons both on your computer or on the mobile application.
You are encouraged to take a trial for seeing if the course works for you.
Individual live tutoring is available for you to solve doubts and continue to practice.
The course offers you free resources such as study planners, ebooks, tests, and articles.
The site has a section of reviews for you to see what other students thought and recommended.
Think in Italian also offers live streams and a supportive community of students.
If you are looking for the best application to learn Italian online try Think in Italian and you won't be sorry. Have in mind all the tips and tricks I gave you and start your Italian journey now!